[ad_1]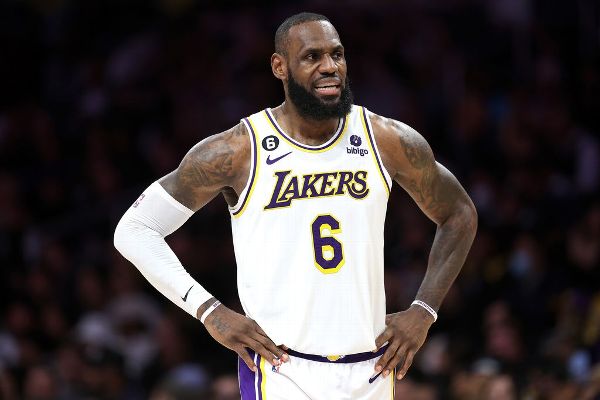 Hours after the NBA released its Last Two Minute Report for the Lakers' 113-112 loss to the Philadelphia 76ers on Sunday, determining that Russell Westbrook was not fouled by Joel Embiid on Los Angeles' final offensive possession, LeBron James took to Twitter to share his frustration with the league's officiating.
Quote tweeting a fan's assertion that the NBA has a "Huge Scandal" on its hands with the way games are being officiated because the league office is "altering their own definition of the rules," James said the referees' game management has been a recurring problem for his team this season.
"And all year they keep telling me to my face on the court, 'I didn't see it' or 'It wasn't a foul,'" James wrote Monday afternoon. "It's not making sense to me seriously! Frustrating as hell man!"
And all year they keep telling me to my face on the court, "I didn't see it" or "It wasn't a foul". It's not making sense to me seriously! Frustrating as hell man! Anyways keep going Squad! 💜💛👑 https://t.co/tsrlXtJjuO

— LeBron James (@KingJames) January 16, 2023
It was a similar refrain for James to his feedback following a 114-100 loss to the Cleveland Cavaliers on Nov. 6, when he attempted 23 shots but was awarded only three free throw attempts.
"At one point tonight, I had 22 points and 20 of them were in the paint. Last game, I got bumped, knocked off the path a few times and at halftime, the refs came to me and told me they missed it," James said at the time. "That's kind of been what they've been telling me over the last couple years — that they just missed it."
Westbrook attempted to get a shot off with 3.2 seconds remaining in the fourth quarter of Sunday's game. The NBA's Last Two Minute Report released Monday stated that Embiid "slightly extends his arm before retracting it and marginal arm contact occurs" in the video review of Westbrook's drive.
"I was trying to get my hand up [to shoot]," Westbrook explained after the game. "I couldn't get my hand up to shoot because he was grabbing it."
Embiid said he "didn't think" he fouled him and dismissed Westbrook's failure to execute as merely "unlucky" due to Westbrook losing the ball briefly earlier in the possession.
Ahead of the Lakers' game against the Houston Rockets on Monday night, L.A. coach Darvin Ham said he's just focused on what he can control.
"[Westbrook] made a move to the rim," Ham said. "They didn't blow the whistle. The game was over. It's as simple as that. I gotta look forward. I don't focus too much on the rearview mirror. I gotta look through the windshield."
After the Lakers' double-overtime loss to the Dallas Mavericks on Thursday, the Last Two Minute Report showed seven incorrect calls in the last two minutes of the fourth quarter and the two overtimes. The most notable was the league determining that on the Lakers' last possession of the first overtime, Christian Wood should have been called for a foul on James' potential game-winning shot attempt under the basket and Luka Doncic should have been called for a foul on Wenyen Gabriel when he corralled James' miss.
The sequence that the Lakers were most upset about that night — Troy Brown Jr.'s shot at the end of regulation, when Tim Hardaway Jr. made contact with the ball and his shooting hand — was deemed a correct no call, per the NBA.
L.A. hosts the Houston Rockets on Monday. James was listed as questionable with left ankle soreness but will play.


[ad_2]
(adsbygoogle = window.adsbygoogle || []).push({});